Rhodar awarded Investors in People Standard
Posted on in Company News
We are pleased to announce that Rhodar has been awarded the Investors in People standard.
This internationally-recognised accreditation acknowledges the exemplary standards of people management that are present across the company.
The accreditation process involved a rigorous assessment, which took place in October 2015. Over sixty staff from across the company were interviewed by an assessor; this involved a comprehensive review of Rhodar's processes and procedures, including feedback from employees.
The assessor was greatly impressed with the positive feedback received from our employees, and provided a range of comments voiced from across the company including: "When asked if they feel valued everyone, without exception, responded positively … [employees] are encouraged to take responsibility for their own decisions, and how these decisions impact their own performance, and the performance of the company."
The award is testament to the collective efforts of employees to maintain the highest working standards, and further enhances Rhodar's position as a market leader in asbestos removal services.
Jason Davy, Rhodar's Managing Director and CEO of Lexia Solutions Group announced that the standard had been attained across the whole Group during the Annual Conference held in Leeds In November. He is pictured below (centre), along with Keith Longney, Director of Acorn Coaching & Development, presenting the IIP plaque to Katie Metcalfe, Lexia's Group HR Manager.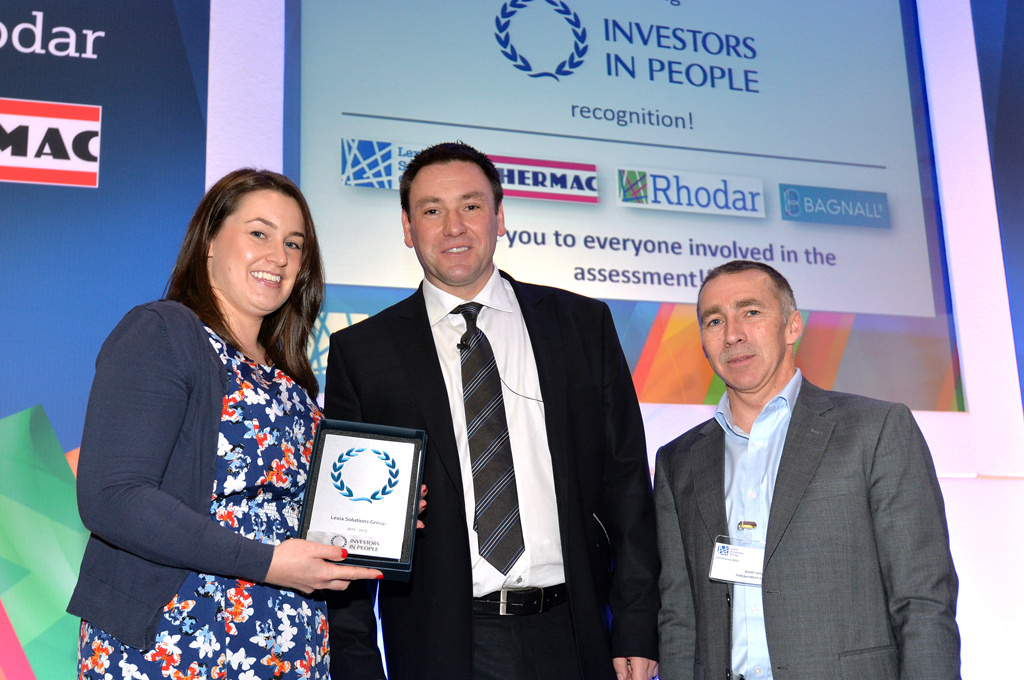 Go Back