Rhodar marks Tony Conway's long-service achievement
Posted on in Company News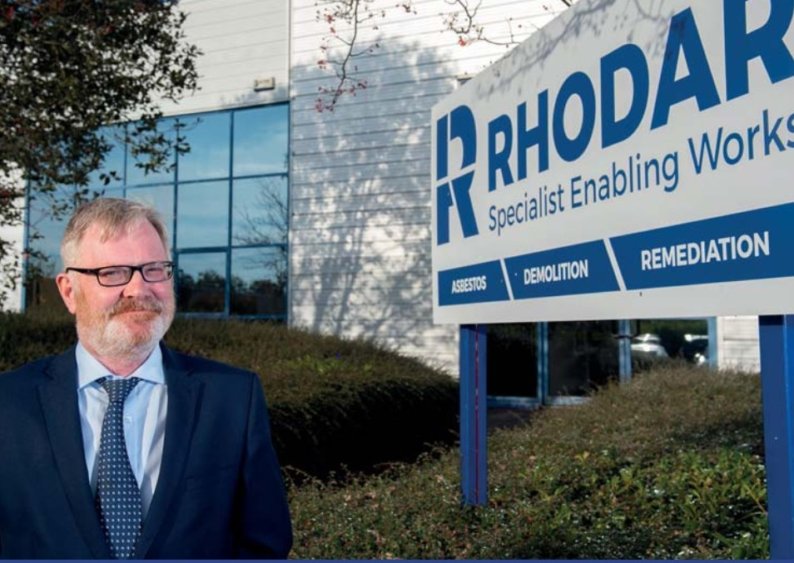 Earlier this year, during the height of lock-down and the many distractions this also brought, a key event passed under the radar for which we'd now like to sound a belated fanfare!
During early March, Tony Conway, Rhodar Scotland's Regional Director achieved the amazing marker of 35 years of service with the company.
Starting his career with Rhodar back in 1985 as an asbestos removal operative and now sitting on the Rhodar board, we thought that a nice way to mark the occasion would be to share an article that appeared in a recent edition of our newsletter 'Insight'. In the interview Tony reflects on his journey with the business and how his drive has got him to where he is today.
We invite you to read Tony's interview below and hope you will all join us in congratulating him on his achievement.
(Extract of Interview with Tony Conway, taken from Rhodar Insight Magazine, January 2020)
Can you start by giving us an overview of Rhodar in Scotland?
'In 2001 I was working for Rhodar in Leeds. Our Managing Director, Jason Davy asked me to go to Ayrshire to look at a business that Rhodar was interested in buying. That acquisition went through – which was the start of Rhodar Scotland. Geographically, we cover the whole of Scotland'.
How has your role evolved during the past 35 years at Rhodar?
'I was offered a position at Rhodar as an asbestos removal operative in 1985. Two years later, I was promoted to Site Supervisor. From there, I became Rhodar's first Site Safety Auditor, I was promoted to Contracts Manager in 2001 and then Regional Manager for the newly opened Scottish office in 2006. As Regional Director, I oversee the whole operation, with a team of people who I can trust to grow and develop their respective areas'.
What would you say are your team's specialisms? And what about growth areas for the future?
'Local Authority frameworks play a key part in our operation. We've been on the East Ayrshire Council framework since 2004, the North Lanarkshire Council framework since 2015, and the prestigious Scotland Excel framework since 2011. We've put a team in place purely focused on Local Authority work and it pays off in terms of the quality we can offer them. We also specialise in the education sector and are on the frameworks of the Universities of Aberdeen, Glasgow and Edinburgh. Looking ahead, our plan is to focus more on collaborative working – working closely with our demolition and remediation teams to offer customers a seamless service'.
You have a great team in place – what makes it work?
'Back in 2001 we were a team of three operatives and a couple of managers. Today we have around 45 operatives, six managers and a unique Local Authority admin team who are dedicated to our framework clients. A number of our team have been with us for over a decade – their loyalty to the business pays dividends as they've tightened up processes, developed their own areas and all have the same focus on offering our clients the very best quality'.
Away from the office, how do you relax?
'I enjoy football (I won't say which team, it could be controversial!), travelling and good food. My wife and I also love sailing on Loch Lomond – the beautiful scenery makes it the perfect place to get away from it all and collect your thoughts'.
What would you say to someone just starting out in the industry?
'I would tell them to keep their focus – decide what your vision is and stick to it. Gather information from your peers, and learn from them. Work hard and think how you can make our customers' lives easier'.
What would you pick out as your top 5 achievements at Rhodar and why?
1. Dollan Aqua Centre
'Back in 2009 we were asked to quote for a major project at Scotland's first Olympic pool, the listed Dollan Aqua Centre. We spent a lot of time ensuring we put forward the very best solution – and we won it! Removing asbestos from this 1968 pool was part of a massive £9m project'.
2. East Ayrshire Council
'I'm particularly proud of this contract. We've been awarded a place on their framework continually since 2004 and we have a great relationship with the customer. They trust us implicitly to deliver a quality service'.
3. Scotland Excel
'We've been contracted to this framework since 2011, which has given us the opportunity to work for the majority of Local Authorities across Scotland'.
4. My career
'On a personal level, I look back at my career with Rhodar and I'm proud of what we've achieved. I'm incredibly loyal to Rhodar and have drawn on inspiration that I've had from colleagues over the years to be the person I am today'.
5. My return to Glasgow
'Back in 2001, I moved with my wife and three children – after 18 years in Leeds – to set up the Glasgow office. It was a big move for us as a family, but it paid off and I feel very proud that we have grown a business which now turns over £4-5m annually'.
Go Back