Showing the way: a career path – Rebekah Newell
Posted on in Company News
Rebekah Newell, contracts manager in Rhodar's domestic asbestos management division, 'Homeworks', originally looked to join in an administrative role when she first applied for a job in 2014. Since that time Rebecca has progressed in just five and a half years, to the highly responsible position of contracts manager. At each step of her progression she has added to her knowledge, technical competence and skillset.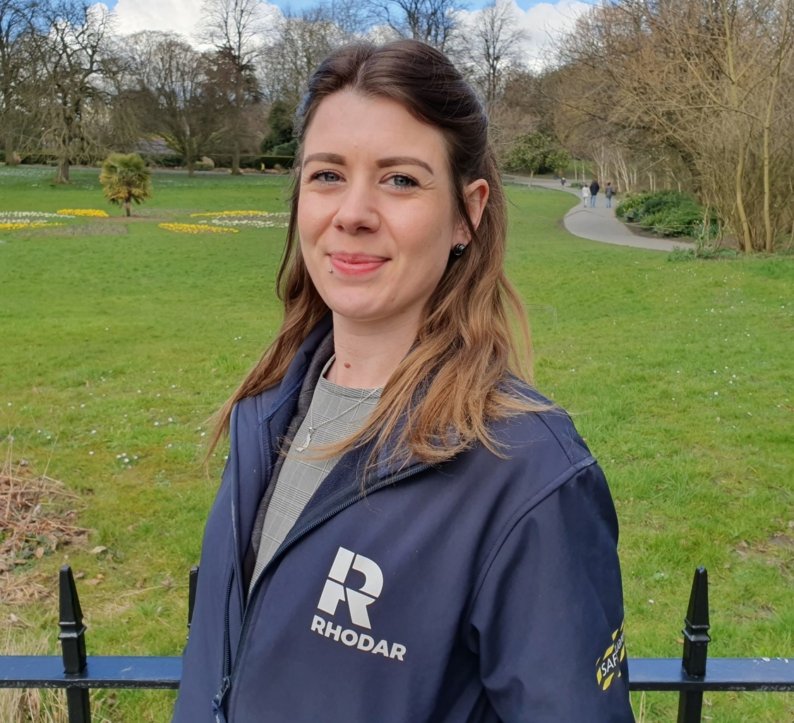 Whilst undertaking an apprenticeship in facilities management at ITV, Rebekah developed a keen interest in asbestos and the danger it poses in the workplace after taking an asbestos awareness training module. This interest soon led to her applying for a position at Rhodar, initially starting as a contracts administrator at the Leeds head office. Within a year Rebecca transferred across to Rhodar's Homeworks division extending her knowledge and capabilities to enable her to become more operationally focused, involved in the booking and management process for asbestos sampling and removal projects.

In 2018 Rebekah progressed to become a trainee contracts manager through a mentoring pathway with the senior team, attaining the relevant qualifications along the way. She then subsequently moved to become a qualified contracts manager the following year, the position she finds herself in today.
Rebekah is a forward-thinking manager and has shown great flair and commitment within her role - and is one of a small but growing number of female contracts managers working within the asbestos removal industry.
Day to day, Rebekah's role and responsibilities include site visits for scoping works, development of risk assessments and method statements, managing project set-up and delivery from start to finish and ensuring health and safety protocols are adhered to throughout in line with guidance and legislation.
Rebekah said: "I love looking back on my career so far and reflecting on how much I have learnt since my first day with Rhodar. From day one I have been encouraged to continuously develop my skills and take on more responsibility in my role. I have been lucky to have such brilliant mentors showing me the ropes of the asbestos industry and helping me develop in my career every day.
At Rhodar, the business really encourages internal progression, and the support you receive from everyone is overwhelming – no matter what their position is within the company – everybody always has time for you if you have any questions or need any kind of guidance."
John Fitzgerald, Head of Homeworks at Rhodar, said: "It has been fantastic to see how Rebekah has progressed from strength to strength over the years. The industry needs more dedicated women like Rebekah - asbestos removal traditionally tends to be a very male-dominated environment and I am a real advocate for diversity in this sector. Seeing Rebekah's flair for the role and her talents develop every year makes us really proud of how far she has come, and I know she'll continue to progress in the business."
If you would like more information on roles available at Rhodar, please contact info@rhodar.co.uk
Go Back