Project insight: Manchester Embankment West
Posted on in Company News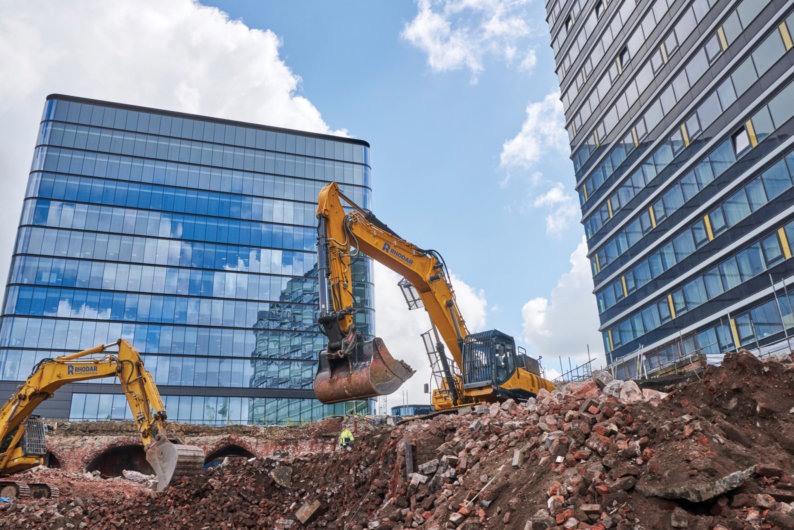 A strategically important enabling works project, being delivered by Rhodar at the Embankment West site in Manchester, has featured in the latest edition of the 'Brownfield Briefing - Development + Infrastructure' Publication. This project is an integrated works package incorporating our demolition and remediation services.
We have reproduced the project feature below:
'Rhodar was appointed as demolition and remediation specialist for the enabling works phase of the strategically important Embankment West development site in Manchester.
The Manchester site forms part of the Greengate Regeneration Scheme, transforming the western part of the former Exchange Railway Station with a residential-led, mixed use development – this major scheme will see the construction of three mixed use tower blocks of up to 18 storeys directly adjacent to Manchester City Centre. Rhodar's package of work began in March 2018 and is expected to be completed by mid-August.

Enabling works commenced with the demolition of several brick-built arches as part of the railway viaduct structure (which also formed some of the platforms for the Manchester Exchange Railway Station) removing 22,000t of rubble and waste.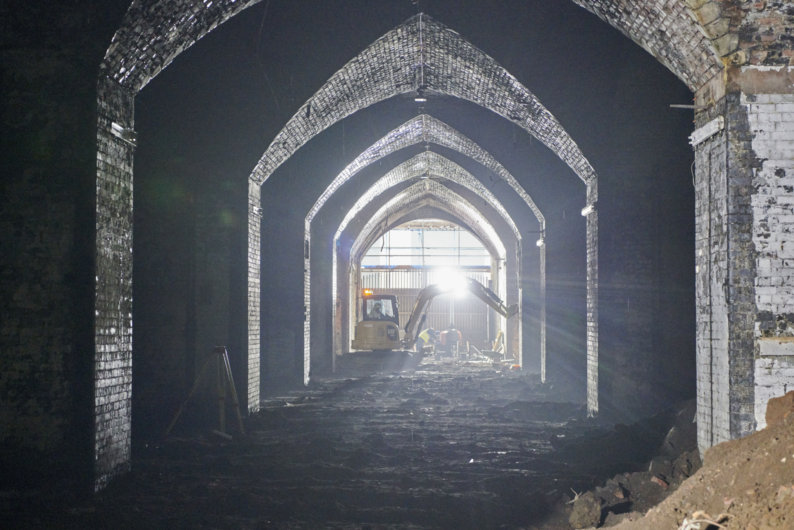 Being located near to Manchester Cathedral and Manchester Arena, and directly adjacent to other high-rise apartment blocks, live train lines and with a significant change in levels across the site, of approximately 9m, it was vital that effective coordination and care was exercised to minimise disruption, noise and vibration impact for the public.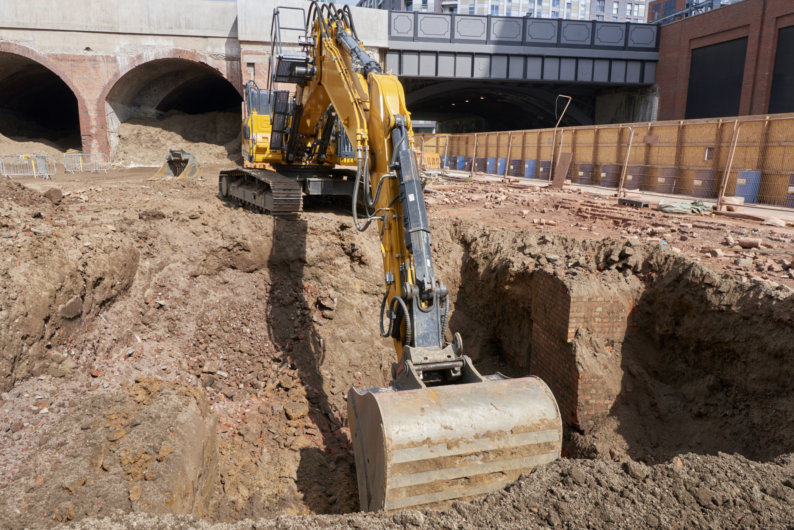 Follow-on remediation comprised made ground excavation, segregation and disposal together with removal of relict in-ground structures including deep pier foundations from the former railway arches. A major earthworks programme is being undertaken to create a suitable development platform which includes laboratory and in-situ testing to confirm geotechnical parameters for the back fill materials and suitability for subsequent road pavement construction.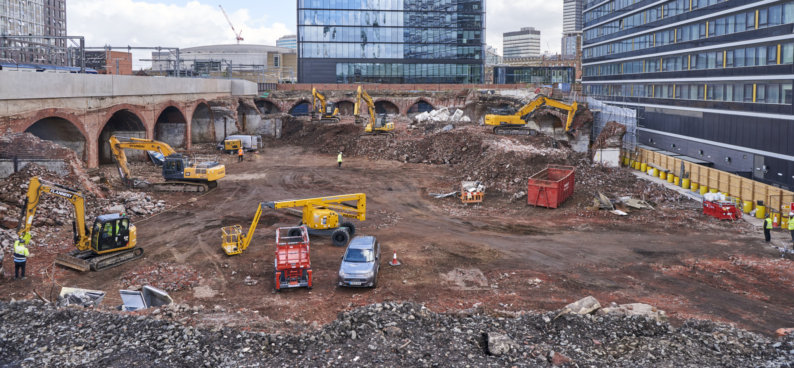 Implementation of a Materials Management Plan was required to meet the requirements of the Definition of Waste Code of Practice during remediation of contaminated made ground and working as part of the project team, acceptance criteria for material re-use were agreed with the project geo-environmental consultant to provide protection to human health and controlled waters receptors. Verification sampling and analysis has accompanied the earthworks to provide assurance that materials selected for re-use adhered to the required specification. Verification samples have been obtained for laboratory analysis and numerous in-situ tests performed to provide a level of quality control appropriate for the works.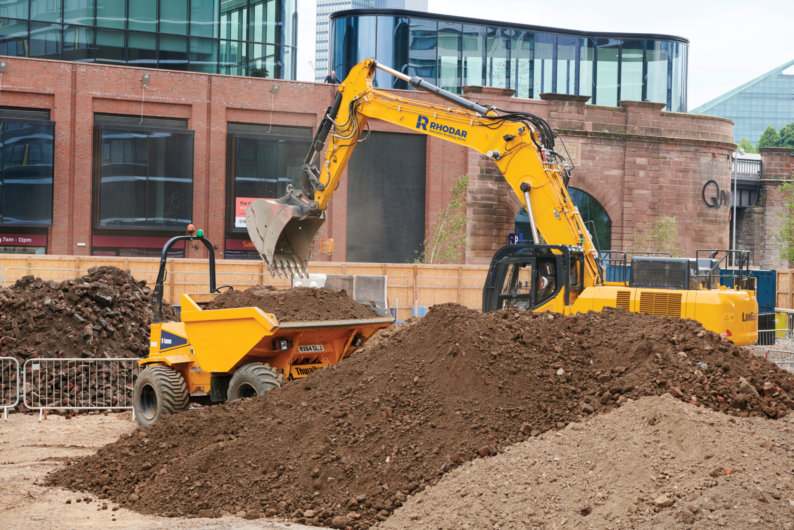 Modification of existing boundary structures, both above and below ground, including saw cutting of brickwork and careful stitch drilling to depths of four metres below ground level have been necessary to remove relict obstructions. These activities have been undertaken under the supervision of a structural engineer and carefully and precisely executed to protect adjacent off-site features, including a public highway.

On completion of earthworks in mid-July, the site will be trimmed to final formation level and a piling mat and access ramps constructed from recycled materials recovered from demolition of the arches, crushed to a 6F2 grade in accordance with the Specification for Highways Works.
Rhodar was due to hand back the site as a development-ready platform, free from impediments and to the client's precise construction specification in mid-August'.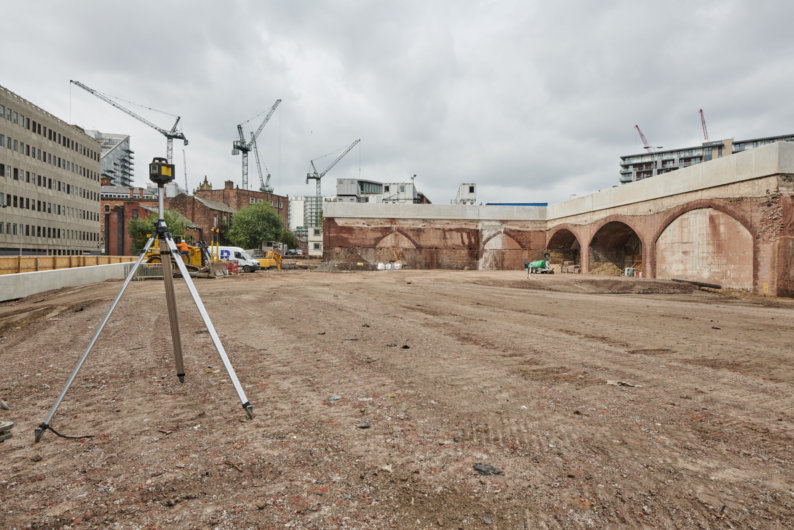 Go Back