'Hoppy Xmas' winners & charities announced
Posted on in Company News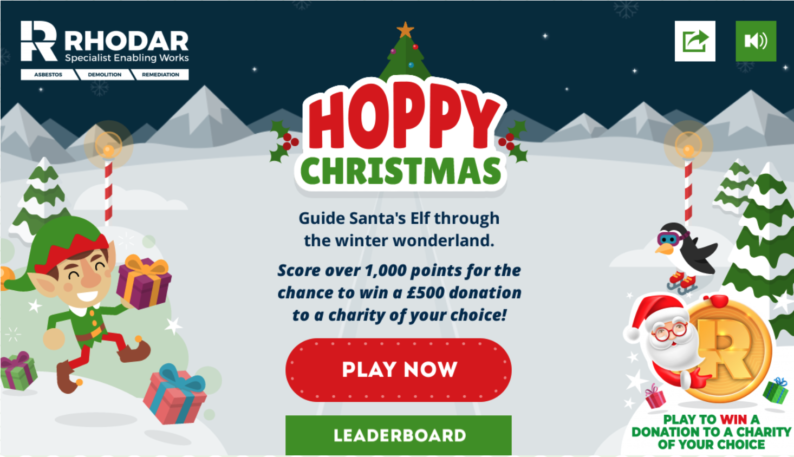 Our 'Hoppy Xmas' game proved incredibly popular (and somewhat addictive) during December, with a staggering 11,799 plays in total! So a big thank you to everyone who joined in the fun!
We are now delighted to announce the three winners of the prize draw…and the charities they have chosen to receive the donations:
1st prize winner - Grant Fraser
Grant from East Lothian Council has chosen to split his £500 donation between 2 charities: AGSD UK & St Columba's Hospice
2nd prize winner - Michael Cosham
Michael from Spence Ltd has chosen to send his £250 prize donation to Dementia UK
3rd prize winner - Andrew Brown
Andrew from Stockport Homes will be donating his £200 prize to MQ Mental Health
All 3 winners were informed of the results of the draw earlier this week, where we had the delightful opportunity gain an insight into their chosen charities and the importance of the work that they carry out on a daily basis...
Grant will be splitting his donation between two charities that have played a huge role in his own life, AGSD UK and St Columba's Hospice.

AGSD UK provides support for those recently diagnosed with Glycogen Storage Disease, organising support groups with patients who have been through the same experience, amongst an array of other vital services.
Providing end-of-life care for those with incurable illnesses and their families, St Columba's Hospice have continued to offer support during the COVID-19 pandemic with the creation of their new Access Team, ensuring that help is always available, be it over the phone, online or face-to-face.
Michael will be donating to Dementia UK, a charity that provides support for families affected by dementia. It helps families understand the initial diagnosis and offering support for carer's mental wellbeing are just two of the many wonderful support networks this charity offers.

Andrew's donation will go to MQ Mental Health, and he emphasised that the past year has been a very fitting time to be promoting mental wellbeing and awareness of the issues around it.

Investing millions into their research, MQ Mental Health have been funding world-class research since 2013 in an effort to gain a better understanding of mental illness, to erase stigmas and transform lives.
We're delighted the 'Hoppy Christmas' Game created such a positive impact during what was a challenging run up to Christmas…and that it the above four charities are also to benefit from this initiative.
Thank you to everyone who got involved and played our festive game, and another huge congratulations to our winners!
'Hoppy' New Year from Rhodar.
Go Back