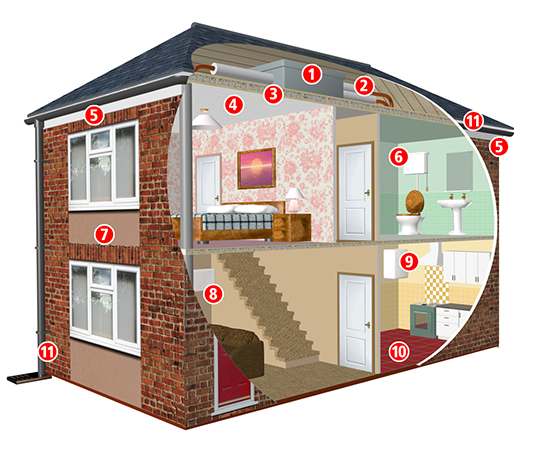 Water Tank: Asbestos cement and is often found in older properties (pre 1980)
Pipe Lagging: Used to keep heat in or cold out. Often painted over, or protected by outer coating so not obviously asbestos.
Property Insulation: Loose asbestos can be found as insulation in wall and floor cavities and in lofts.
Textured Coating (eg artex): Can be found throughout a property on ceilings and walls.
Soffit Board (roof overhang): Sits behind fascia at eaves level. Boards can be made from asbestos cement or asbestos insulating boards.
Toilet Cistern: Toilet cisterns can contain asbestos-reinforced resin composite materials.
Wall Panelling: External wall cladding and as internal wall panelling particularly around windows.
Fuse Box: Each Fuse wire has an individual asbestos flash guard. Panel behind fuse box can be asbestos.
Heater Cupboard: Around domestic boiler often contains asbestos insulating board.
Floor Tiles: Plastic floor tiles, often different colours and mainly
hidden under carpets and ceramic tiles.
(Vinyl Floor Tiles: The tile backing may also contain asbestos paper).
Rainwater Items: Roof gutters and down pipes can often be
made of asbestos cement.