Demolition
Rhodar's Demolition Division completes some of the most challenging and demanding projects in the industry for a range of blue chip companies, architects, consultants, developers and the UK's largest construction companies and has a proven track record for delivering high-end demolition projects throughout the UK.
Our experienced workforce possesses a strong work ethic and a firm commitment to safety that brings practical, modern solutions to ensure we deliver projects successfully.
We work together to offer extensive resources and capabilities to enable us to deliver the most effective collaborative solution for your project
Services
We take derelict and redundant structures and leaves a blank canvas for you to work with. From complete demolition to soft stripping, or technical alterations for rejuvenation and re-use, we approach every project carefully, methodically and professionally.
Demolition
Quality controlled demolition is one of our primary disciplines. We have progressively acquired in-depth experience which makes us the ideal choice to deliver successful demolition projects in a wide range of environments. With our own state-of-the-art plant and equipment and directly-employed operatives, we ensure effective delivery of all projects.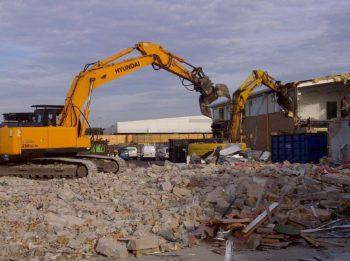 Dismantling
We undertake meticulous and complex dismantling both within structures and in confined locations such as city centres, or as part of wider building refurbishments where existing structures require alterations.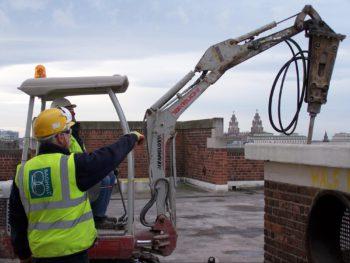 Soft strip
We have extensive experience in removing fixtures, fittings and non-structural elements in readiness for refurbishment or renovation. We've worked on every type of structure, from listed buildings of all grades to live retail environments.
Dilapidations
We return Commercial and Industrial rented properties to their original state once tenancy agreements have expired. You can rely on a professional, compliant service, avoiding landlord commission and the costs of extended leases.
Land remediation
We specialise in the controlled excavation and removal of land which has been contaminated with asbestos. We are one of very few companies in the UK to have directly-employed plant operators who are trained and experienced in working with buried asbestos.
This complements the services provided by our Remediation Division.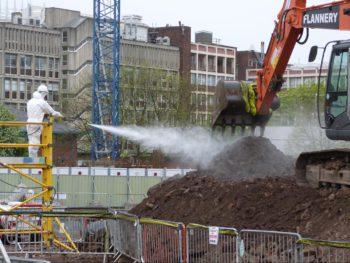 Combined service delivery
Rhodar is a multi-service enabling specialist, delivering industry leading asbestos removal, demolition and land remediation works.
Our expansive infrastructure and capabilities ensure that our services, offered collectively or individually, will always meet the current and evolving demands of our customers.
We are the first port of call for clients at the planning stage of all projects, be it multi-million pound regeneration works or removal of asbestos-containing materials in domestic properties.
Our people
All our staff are directly employed, and our retention rate is testament to the investment we make in them; many have been in the industry for over 20 years. We take a meticulous approach to the selection and recruitment of personnel and we have an active policy of internal training, promotion and career progression, constantly developing their skills and knowledge.
We provide the highest levels of training to not just meet but surpass legal requirements and our clients' expectations. Our on-site management personnel have all undertaken the CITB Site Managers' Safety Training Scheme, NDTG Specific Supervisory Training for demolition or UKATA Accredited Supervisory Training for asbestos. They also train their staff in accordance with the guidelines laid down by the NFDC (National Federation Demolition Contractors) and ARCA (Asbestos Removal Contractors Association).
Recycle
We strive to recycle 100% of non-hazardous demolition waste materials on our projects.
Our commitment to recycling and continual improvement in our environmental performance is mirrored in our policies and operational procedures – and, ultimately, in the levels of recycling that we achieve.
Our objective is to recycle all materials where technically feasible, economically viable and environmentally sound, and consideration is always given to ways of minimising the amount of waste generated. We are committed to acknowledging recognised industry best practice and are currently achieving in excess of 98% recycling of demolition waste.
Before we start a project our waste specialists undertake a thorough evaluation of the waste streams resulting from our work. The segregation, removal, and recycling of this waste is considered and a Site Waste Management Plan is put in place. When the project is finished, the completed Plan is presented to the client.
Health & Safety
Health & Safety is at the centre of everything we do – because at the heart of our operation is the protection of our employees. We have stringent Health & Safety procedures in place, which are adopted on every project, regardless of cost or size.
We use a variety of methods to deliver and maintain a high Health & Safety conscience – from the senior management down to our site personnel. These include:
Thorough analysis of projects to determine high risk activities, risk assessment and discussion with personnel and clients.
Detailed bespoke method statements are created for every project to ensure a truly tailored approach.
Investment in state-of-the-art plant and equipment.
Regular discussions and meetings with operatives on current legislation and site issues.
Regular toolbox talks are carried out on each project.
Provision, maintenance and replacement of all required PPE.
Rigorous training programmes and refresher courses.