Asbestos – what you need to know
Asbestos is predominantly found in three commercially used forms:
Blue (Crocidolite)
Brown (Amosite)
White (Chrysotile)
These asbestos fibres were mined, extruded and then 'mixed' in various quantities with other materials to produce a huge variety of products used in all sorts of applications.
Used heavily in the construction of homes, hospitals, education establishments and more, Asbestos Containing Materials (ACM's) consisted of anything from pipe lagging, insulation board and textured coatings to floor tiles, guttering, roof soffits, and sprayed fireproof coatings.
The Facts
Asbestos can potentially be found in any building built before the year 2000 as the last ban on the use of white asbestos products was only in 1999.
Asbestos exposure causes 5,000 deaths every year – vastly more than the number of people killed on UK roads. Deaths are still on the increase and could reach over 10,000 per annum by 2025.
Around 20 tradesmen die each week as a result of past exposure. However, asbestos is not just a problem of the past it's still very much a problem of today if it's not managed properly.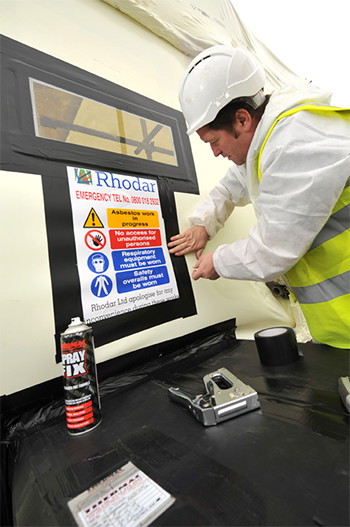 When materials that contain asbestos are disturbed or damaged, fibres are released into the air. When inhaled they can cause serious diseases. It can take as little as 10 years and up to 50 years to develop these diseases based on cumulative exposure levels; once diagnosed, it can be too late to do anything. This is why it is important to seek advice from the specialists.
Exposure to asbestos can cause the following diseases:
Mesothelioma – a cancer of the lining of the lungs, it is always fatal and is almost exclusively caused by exposure to asbestos.
Asbestos-related lung cancer – again almost always fatal and has a multiplying effect for smokers.
Asbestosis – a scarring of the lungs, a fibrosis that can be a very debilitating disease, greatly affecting quality of life and can in certain circumstances prove fatal.
Pleural thickening – this is of the membrane surrounding the lungs, which can restrict lung expansion leading to breathlessness.
The Law
For non-domestic properties it is mandatory to have a written Asbestos Management Plan. The starting point for this is the asbestos survey to ascertain if asbestos is present, where it is and what condition it is in.
On completion of an asbestos survey (following the surveyors guide - HSG264) a bespoke management plan must be developed. This will be based on the survey and risk register to ensure that you are robust in the management of those ACM's on your site.
This falls under Regulation 4 – The duty to manage asbestos in non-domestic properties - of CAR (Control of Asbestos Regulations) 2012 as amended). Although this states 'non-domestic' properties, common areas in 'domestic' properties and where the home becomes a tradespersons workplace (when undertaking professional work) there is an inherent duty to adhere to CAR2012.
Guidance on the management of asbestos in soil and made ground can be found in CIRIA C733 'a guide to understanding and managing risks' and the CL:AIRE Joint Industry Working Group Asbestos in Soil and Construction & Demolition (C&D) Materials guidance titled 'Control of Asbestos Regulations 2012: Interpretation for Managing and Working with Asbestos in Soil and Construction & Demolition materials: Industry Guidance (shortened name CAR-SOILTM)'.